Values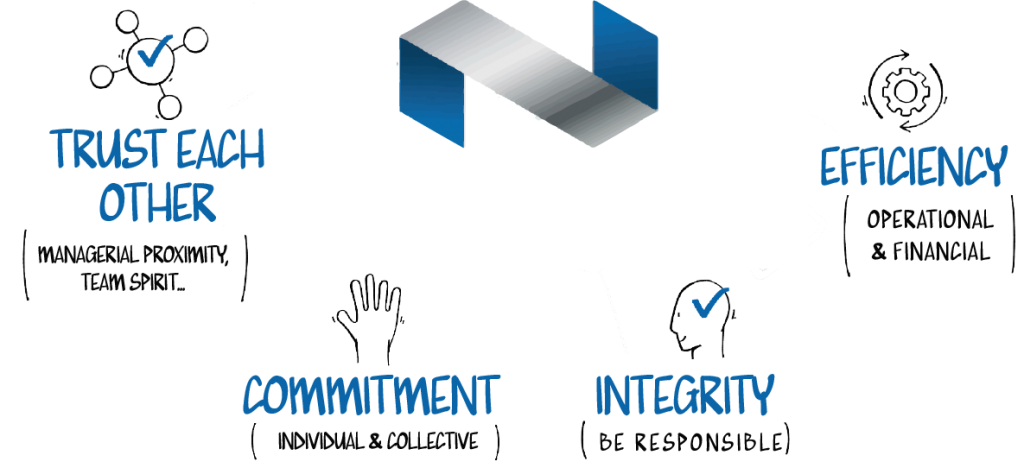 Strategic vision
Nexteam relies on the technical expertise of its teams, industrial and technological excellence, and a sense of service founded on historical know-how that is constantly being modernized.
A commitment to technical expertise: the taste for excellence shared by all the company's nearly 2,000 employees contributes to the preservation and enhancement of expertise and technical know-how in the field of metal parts, particularly high-precision parts.
Customer satisfaction in terms of quality and on-time production is based on constantly updated know-how. This satisfaction stems from a strong service culture that has been present at all the company's production sites since its inception.

It can be seen in the responsiveness and agility with which we respond to customer needs. ex/ AOG
It is evident in the ability to manufacture exceptional parts for a demanding sector. ex/ exceptional pieces
It is also evident in the ability of our sites to work together or complement each other, both in France and abroad.

Significant technological investment at every level of the company.

Over the past 7 years, we have invested more than €160 million in modernizing and digitizing our workshops and industrial facilities.
The digitization of the entire company, including all businesses and functions, alone represents an investment of €14 million over the past seven years.

The excellence demanded by the aerospace and defense sectors has forged Nexteam's culture from the outset.